This is a list of 8 Gym Leaders & Elite Four in Lauren Region in Pokemon Light Platinum. All their informations including their Pokemon, Location, Name and Bagde will be shown.
GYM's LEADER
Gym # 1 – Rocavely City Gym

Location: Rocavely City
Gym Leader: Roarka
Specialty: Rock Type
Reward: Rock Badge, TM39 Rock Climb, Can use TM39
TM39: Used for scale rocks.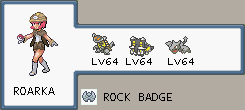 ---
Gym # 2 – Skyner City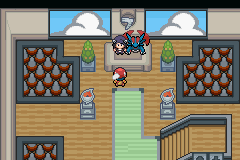 Location: Skyner City
Gym Leader: Rebeca
Specialty: Flyning Type
Reward: Sky Badge, TM41 Flyning, Can use TM41
TM41: Used for fly in sky route.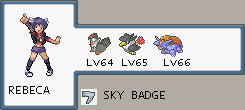 ---
Gym # 3 – Kosaka City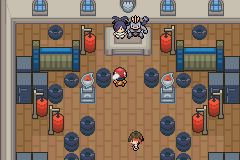 Location: Kosaka City
Gym Leader: Lumy
Specialty: Flight Type
Reward: Force Badge, TM31 Ice Smash, Can use TM31
TM31: Used for destroier ice rocks.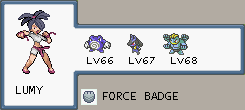 ---
Gym # 4 – Flamerny City Gym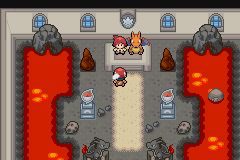 Location: Flamerny City
Gym Leader: Lure
Specialty: Fire Type
Reward: Ruby Badge, TM50 Fire Blow, Can use TM50
TM50: Used for burned tree.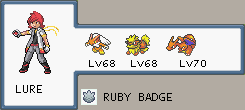 ---
Gym # 5 – Merydian City Gym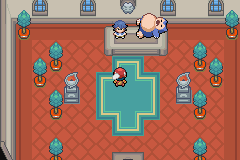 Location: Merydian City
Gym Leader: Aizen
Specialty: Normal Type
Reward: Normal Badge, TM01 Focus Punch, Can use TM01
TM01: Used for destroier big rocks.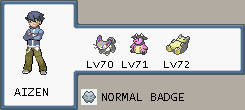 ---
Gym # 6 – Ricyan City Gym
Make right moves to beat him.
Location: Rycian City
Gym Leader: Soka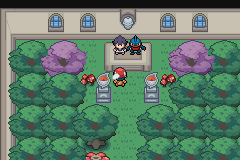 Specialty: Poison Type
Reward: Purple Badge, TM26 Dig, Can use TM26
TM26: Used for dig in earth.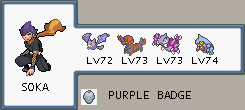 ---
Gym # 7 – Noormeak City Gym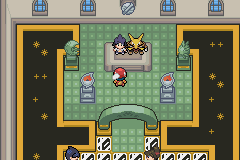 Location: Noormeak City
Gym Leader: Kilua
Specialty: Psychic Type
Reward: Ilusion Badge, TM03 Water Pulse, Can use TM03 TM39: Used for defeat
fires.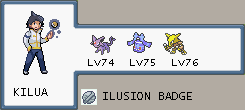 ---
Gym # 8 – Ironnem City Gym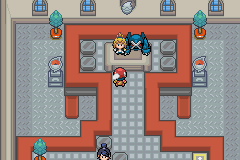 Location: Ironnem City
Gym Leader: Stella
Specialty: Stell Type
Reward: Iron Badge, TM12 Whirlpool, Can use TM12
TM12: Used for dissapear whirlpools.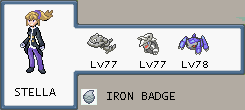 ---
ELITE FOUR
Elite # 4 – Kuchick


Elite Position: First
Specialty: Poison Type
---
Elite # 4 – Wyse


Elite Position: Second
Specialty: Ground Type
---
Elite # 4 – Honeyu


Elite Position: Third
Specialty: Dark Type
---
Elite # 4 – Aurane


Elite Position: Four
Specialty: Dragon Type
---
Champion – Byake